Ahhh, Twitter: the little blue bird can do wonders for any company, especially on the Public Relations front. But I must say, Twitter is a tricky platform to master. It can be a company's best friend or its WORST ENEMY. So in order to avoid a sticky situation, I've compiled some of my favorite Twitter faux pas of the past year. Hopefully we can all learn from these. Although we won't be keeping our fingers too crossed- after all, these tweet mishaps do add a little humor to our lives. 

#1 Know your company and your audience
When a promotion by McDonald's asked Tweedos to share their favorite McDonald's memory using hashtags #McDStories and #MeetTheFarmers, tweets went from bad to worse. Here is just one of the many unfavorable tweets posted in that short hour:
"@DigitalStokes: I used to like McDonalds. I stopped eating McDonalds years ago because every time I ate it I felt like I was dying inside. #McDStories"
#2 Be careful about wording, especially when using #Hashtags
Take Susan Boyle's PR team for instance. When she was releasing her first album, her team thought it would be great to hash tag #susanalbumparty . What they didn't realize is that this hash tag can definitely be read another way…oops.
#3 Check & double check your Tweets. 
Especially when someone else is Tweeting for you. Apparently Kenneth Cole had no idea one of his newly hired interns was handling his Twitter. After the events took place in Cairo, Egypt, an insensitive message was Tweeted from the @KennethCole page that read: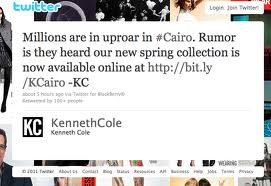 #4 No one wins from inappropriate Tweets
During Hurricane Sandy, there was an outrageous number of insensitive tweets. I can't think of any instance where joking about a natural disaster to promote your company would be tasteful. One came from a company called The President's Choice, who posted this message:
#5 When managing multiple accounts, make sure you separate personal from professional
Fortunately for SMAK, HootSuite makes managing multiple Twitter accounts a breeze. But on Oct. 3rd during the Presidential election, someone Tweeted the below from @KitchenAidUSA.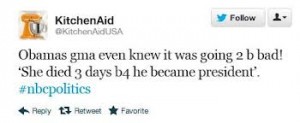 So remember to tweet with purpose, keep it professional, and always keep  your audience in mind…Happy Tweetin!