You may be surprised to find out that creating and editing a Wikipedia page is almost as easy as creating a blog post. That said, there are some very specific circumstances when you should consider creating a Wikipedia page, and some very specific rules for the information that you should post and edit.
What I want to share in this piece are my experiences of how to create a Wikipedia page from scratch, complete with some boneheaded mistakes that I made and hope you can avoid.
"Everyone should have a Wikipedia page"
First things first: because you can create a Wikipedia page doesn't mean that you should. In fact, Wikipedia has pretty strict rules about who and what should be included in their encyclopedia. In the "starting an article" post they explain their general policy (source):
People frequently add pages to Wikipedia without considering whether the topic is really notable enough to go into an encyclopedia…. please consider whether your chosen topic is notable enough for Wikipedia, and assert (or preferably show!) the notability or importance of your article's subject if you decide it is notable enough. Wikipedia is not a directory of everything in existence.
There are also guidelines prohibiting advertising and promotion within Wikipedia, and it makes sense: when you search for something online, one of the first entries on the SERP is oftentimes the Wikipedia entry. This is obviously a very valuable tool and as such has been abused, most notably by Wiki-PR who sold Wikipedia entries as a part of its client package (source)  Acknowledging that the practice of covert editing is common, the biggest PR firms signed a transparency pledge to identify their affiliation when making Wikipedia edits on their client's behalf. (source) Of course, even this seems to be misaligned with Wikipedia's editorial guidelines (source), but that's none of my business….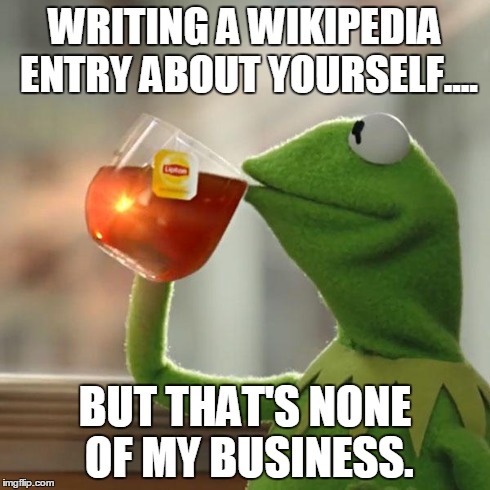 So, while Robert Scoble is correct (at least in my opinion) that "everyone is notable,"(
source
) I would disagree with him that everyone needs to be included in an online encyclopedia. The disambiguation would be make it unbearable, and not everything or everyone is equally notable.
Creating a Wikipedia page (or two)
My first Wikipedia contribution was created on a whim. I discovered the Serial podcast (link) after they published five or six episodes, so I was binge-listening through the episodes when I started surfing the web to learn more about it. While there was a lot of information about the podcast there wasn't any information on Sarah Koenig, the journalist who narrates it. I had a couple more episodes to go through and I wasn't going to do anything productive while listening so I took off to Wikipedia to draft an article about this person that I knew nothing about.
How to research for Wikipedia
If I could impart one piece of immediate wisdom in this post it is that Wikipedia only allows you to publish verifiable, referenced facts (source). I was fortunate that there is a wealth of information about Sarah Koenig online: she is an accomplished journalist and producer. But I took my research a step further and wrote emails to try and get even more information about her. My research didn't really pan out, which is good…. because I couldn't include that "original research" anyhow. Unfortunately I did this one more time with one of my favorite musicians, Michelle Anthony (link) and she was generous enough to answer all of my questions. While selfishly it is awesome to know so much about her, it stunk to go back to her after the fact and tell her that I couldn't publish most of the stuff I asked her about.
Everyone's pretty familiar with Wikipedia and the footnotes at the bottom. The Wikipedia community takes these references quite seriously, so my intention was to footnote as much as I could to create a strong "Sarah Koenig" entry. A little different than a blog post, references are captured in a "ref" tag and automagically populate the bottom references (in proper) order.
Also a little different: you can use the "insert link" button to cross-reference different topics, for example linking "Serial" to "Sarah Koenig" or vice versa.
How to start writing a Wikipedia entry
So, how do you start a Wikipedia entry? By creating a Wikipedia account, and then by creating a new entry in your "sandbox." (source) The sandbox is a proving ground for your article. I approached the two posts that I created quite differently:
For the Sarah Koenig entry (link), I wrote everything from scratch. I had no framework or context and made it up as I went. The mechanics are quite like a blog post and it was pretty easy to navigate headings and the linking structure. In this scenario, the volunteer editors were very understanding and generous to make immediate improvements to format it to the Wikipedia standards.
For the Michelle Anthony entry (currently awaiting editor approval)(link), I copied another artist's Wikipedia page and then updated the specifics. This allowed me to do some cool formatting things, but also got me in some trouble as people managing some of the linked pages took exception to the old wiki-links being attributed to a new entry.
Either way is fine (a third method would be to learn the wiki-markup properly)(source). In any event, both pages look really great at the end. Each method worked well for different reasons: Koenig is a high-interest subject so people were eager to add more detail to the skeleton article, and I was able to properly display Anthony's discography on her page by copying (Joan Osborne's) page and editing it with Anthony's details.
How to publish a Wikipedia entry
So, like a blog post you've researched and created a draft and the logical next step is to publish. I inadvertently did it two ways and I'll discuss the merits of each one:
Use the wizard: 
For my post about Michelle Anthony, I used the Article Wizard (Wikipedia article wizard link). It walks you through the process step-by-step, you can cut and paste your article from the sandbox quite easily, then you submit it and…. it queues behind 3000 backlogged articles to be reviewed and approved by volunteer editors. This is what insiders call a "bottleneck." The reason that my Wikipedia entry about Michelle Anthony isn't on Wikipedia yet is that it is stuck in Wikipedia purgatory. This kind of sucks.
On the other hand, by going through the vetting process I know that the editors will evaluate the entry for neutrality and it will be a well-vetted digital testament to an awesome artist.
Publish directly to Wikipedia (aka the "nuclear" option):
I made up the "nuclear option," but it's somewhat apt: you cut, paste and publish your article directly to Wikipedia without editor's review (Wikipedia direct entry link). This is what I did with the Sarah Koenig entry, and it went well. One volunteer editor immediately did a lot of housekeeping on my post to make it look great, and also suggested that it could be featured if I could find a proper photo for the entry (more on that in a moment).
I hate the backlog of the submission process, and I think having the Sarah Koenig entry immediately accessible was a good thing (1.5 million people listen to her podcast every week). But truth told, I did this by mistake. If I write more entires I'm going to put it through the submission process and let one of the editors vet them properly. Because of Wikipedia's incredible influence due to its SERP position, there is a lot of black hat stuff going on (references to self-posted bs on iCNN being one of the most egregious) I think there's perceived and absolute value to following the process.
How to associate pictures to your Wikipedia entry, or the problem with Wikipedia pictures
One of my Wikipedia pet peeves is for an entry not to have an image. Of course, you may notice that neither of my entries have photos. Before you accuse me of hypocrisy, let me tell you that media on Wikipedia must either be your own work or you must have the right to publish it. "Right to publish" means that it fits one of the following four criteria:
1. The copyright holder published this work with one of the following Creative Commons licenses:
2. The copyright holder published their photo or video on Flickr with the right license
Creative Commons Attribution ShareAlike 2.0 (legal code)
Creative Commons Attribution 2.0 (legal code)
Original work of the US Federal Government
3. The copyright has definitely expired in the USA
4. This work was made by the United States government
If you have a photo that fits this criteria (as I don't for Sarah Koenig or Michelle Anthony), then you would simply upload it to Wikipedia Commons (Wikipedia Commons upload link) and then associate it to your article.
Most of the Wikipedia entries without photos are probably imageless because of the strict guidelines that Wikipedia has for posting media to the site.
Conclusion
That's the long and the short of how to post something to Wikipedia. It's a powerful resource, but also one that is protected well by its community of editors. Entries are quite similar to blogging, and the community is super helpful (so long as you're contributing to the resource and not trying to do something untowards with it).
One last note, when you're posting to Wikipedia you have a lot of latitude as to what you publish. For the Sarah Koenig article, the Koenigs took exception to their kid's names being included in the post which is quite understandable. In my contact with Michelle Anthony she helped me to edit out personal things (like her kid's names) that were discover-able online but didn't add any value to a biography. I think this might be the most appropriate way to collaborate with a subject – to make sure they're comfortable with some of the tertiary details being published.
That's my experience with Wikipedia entries. If you have other experiences, I'd love for you to add them to the comments.